From guest blogger Steve Slaight, CCCA Contractor/former staff member:
Matthew 23: 25-27 leaves little doubt about Jesus' view on whitewashing the outside to make sure it looks beautiful, yet putting no focus on the inside – ensuring it is clean as well. He's not impressed.
However, I have not found a Bible verse that discusses what just happened at a local fast-food restaurant. Maybe you can help…
While sitting, sipping tea, and working through email messages, I noticed an employee working hard to clean up, both inside and out, a double-can trash receptacle. She had the spray going, the scrubber going, and was very meticulous in her work. She probably spent 15 minutes – at least – covering every square inch. The trash receptacle was left glimmering in the morning sun.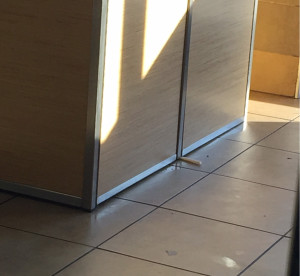 Her task was obvious. Clean the trash receptacle. However, it appears that nobody told her to pick up the trash around said receptacle, as the picture shows. Sure, it wasn't much. Just a straw and a couple crumbs. And besides, nobody said "Pick up the trash, too."
In this case, the inside was clean. Spotless even. The outside was clean, yet on the ground was a small pile of trash that apparently was not included in the work order. And that little bit of trash made everything look filthy.
If the application to your camp and conference center isn't screaming at you right now, then you definitely need to read this post. Simply put – do you train your staff to "do their job" – or do you train them to look beyond the job description to the obvious needs – and meet them? Do you reward them for going above and beyond, or chastise them because it's not really their job?
At CCCA, we've gone through a series of team meetings where Gregg has challenged the team to look past the job description, and to provide a culture of customer (member) care. If that means picking up and tossing the straw and small pile of crumbs (even though you're not specifically instructed to do so), then just do it. Don't look for credit – instead – do it because it's the right thing to do. Go the extra mile. We hope and pray that our efforts show.